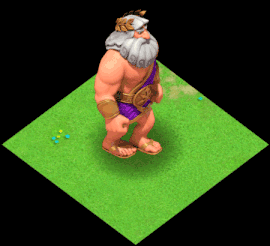 Description
King of the gods. God of the Sky. Wields the power of thunder.
Zeus is a very hearty god whose primary role is to capture tower aggro
He is mostly being used to slow down the healing of buildings as well as the movement of soldiers and attack rate of towers.
Zeus' powers are: Chain Lightning, Lightning Storm and Slow Time (Ultimate).
Strategy
Zeus has a lot of health, so deploying him to distract enemies while using other gods to destroy buildings works well.
Lightning Storm does a lot of damage over a fairly wide ares, and does well at destroying clusters of buildings.
Upgrades
| Level | Health | Cost |
| --- | --- | --- |
| 1 | 13800 | 0 |
| 2 | 15900 | 4000 |
| 3 | 17900 | 8000 |
| 4 | 20000 | 12000 |
| 5 | 22000 | 17000 |
| 6 | 24100 | 22000 |
| 7 | 26200 | 28000 |
| 8 | 28200 | 34000 |
| 9 | 30300 | 41000 |
| 10 | 32400 | 49000 |
| 11 | 34400 | 58000 |
| 12 | 36500 | 67000 |
| 13 | 38500 | 78000 |
| 14 | 40600 | 89000 |
| 15 | 42700 | 101000 |
| 16 | 44700 | 115000 |
| 17 | 46800 | 130000 |
| 18 | 48900 | 147000 |
| 19 | 50900 | 165000 |
| 20 | 53000 | 185000 |
| 21 | 55000 | 208000 |
| 22 | 57100 | 232000 |
| 23 | 59200 | 259000 |
| 24 | 61200 | 288000 |
| 25 | 63300 | 321000 |
| 26 | 65400 | 357000 |
| 27 | 67400 | 396000 |
| 28 | 69500 | 439000 |
| 29 | 71500 | 487000 |
| 30 | 73600 | 539000 |
| 31 | 75700 | 596000 |
| 32 | 77700 | 660000 |
| 33 | 79800 | 729000 |
| 34 | 81900 | 806000 |
| 35 | 83900 | 890000 |
| 36 | 86000 | 983000 |
| 37 | 88000 | 1085000 |
| 38 | 90100 | 1197000 |
| 39 | 92200 | 1320000 |
| 40 | 94200 | 1456000 |
| 41 | 96300 | 1605000 |
| 42 | 98400 | 1769000 |
| 43 | 100400 | 1949000 |
| 44 | 102500 | 2148000 |
| 45 | 104500 | 2366000 |
| 46 | 106600 | 2607000 |
| 47 | 108700 | 2871000 |
| 48 | 110700 | 3162000 |
| 49 | 112800 | 3481000 |
| 50 | 114900 | 3833000 |
| 51 | 116900 | 4220000 |
| 52 | 119000 | 4646000 |
| 53 | 121000 | 5114000 |
| 54 | 123100 | 5629000 |
| 55 | 125200 | 6195000 |
| 56 | 127200 | 6819000 |
| 57 | 129300 | 7504000 |
| 58 | 131400 | 8258000 |
| 59 | 133400 | 9088000 |
| 60 | 135500 | 10000000 |
| 61 | 137500 | 12000000 |
| 62 | 139600 | 14400000 |
| 63 | 141700 | 17500000 |
| 64 | 143700 | 21300000 |
| 65 | 145800 | 26000000 |
| 66 | 147900 | 32000000 |
| 67 | 149900 | 39500000 |
| 68 | 152000 | 48800000 |
| 69 | 154000 | 60400000 |
| 70 | 156100 | 75000000 |
| Level | Strength | Cost |
| --- | --- | --- |
| 1 | 390 | 0 |
| 2 | 480 | 4000 |
| 3 | 570 | 8000 |
| 4 | 660 | 12000 |
| 5 | 750 | 17000 |
| 6 | 840 | 22000 |
| 7 | 930 | 28000 |
| 8 | 1020 | 34000 |
| 9 | 1110 | 41000 |
| 10 | 1200 | 49000 |
| 11 | 1290 | 58000 |
| 12 | 1380 | 67000 |
| 13 | 1470 | 78000 |
| 14 | 1560 | 89000 |
| 15 | 1650 | 101000 |
| 16 | 1740 | 115000 |
| 17 | 1830 | 130000 |
| 18 | 1920 | 147000 |
| 19 | 2010 | 165000 |
| 20 | 2100 | 185000 |
| 21 | 2190 | 208000 |
| 22 | 2280 | 232000 |
| 23 | 2370 | 259000 |
| 24 | 2460 | 288000 |
| 25 | 2550 | 321000 |
| 26 | 2640 | 357000 |
| 27 | 2730 | 396000 |
| 28 | 2820 | 439000 |
| 29 | 2910 | 487000 |
| 30 | 3000 | 539000 |
| 31 | 3090 | 596000 |
| 32 | 3180 | 660000 |
| 33 | 3270 | 729000 |
| 34 | 3360 | 806000 |
| 35 | 3450 | 890000 |
| 36 | 3540 | 983000 |
| 37 | 3630 | 1085000 |
| 38 | 3720 | 1197000 |
| 39 | 3810 | 1320000 |
| 40 | 3900 | 1456000 |
| 41 | 3990 | 1605000 |
| 42 | 4080 | 1769000 |
| 43 | 4170 | 1949000 |
| 44 | 4260 | 2148000 |
| 45 | 4350 | 2366000 |
| 46 | 4440 | 2607000 |
| 47 | 4530 | 2871000 |
| 48 | 4620 | 3162000 |
| 49 | 4710 | 3481000 |
| 50 | 4800 | 3833000 |
| 51 | 4890 | 4220000 |
| 52 | 4980 | 4646000 |
| 53 | 5070 | 5114000 |
| 54 | 5160 | 5629000 |
| 55 | 5250 | 6195000 |
| 56 | 5340 | 6819000 |
| 57 | 5430 | 7504000 |
| 58 | 5520 | 8258000 |
| 59 | 5610 | 9088000 |
| 60 | 5700 | 10000000 |
| 61 | 5790 | 12000000 |
| 62 | 5880 | 14400000 |
| 63 | 5970 | 17500000 |
| 64 | 6060 | 21300000 |
| 65 | 6150 | 26000000 |
| 66 | 6240 | 32000000 |
| 67 | 6330 | 39500000 |
| 68 | 6420 | 48800000 |
| 69 | 6510 | 60400000 |
| 70 | 6600 | 75000000 |
| Level | Strength | Quantity | Cost |
| --- | --- | --- | --- |
| 1 | 140 | 10 | 0 |
| 2 | 165 | 11 | 1000 |
| 3 | 190 | 11 | 3000 |
| 4 | 215 | 12 | 5000 |
| 5 | 240 | 12 | 7000 |
| 6 | 265 | 13 | 9000 |
| 7 | 290 | 13 | 12000 |
| 8 | 315 | 14 | 14000 |
| 9 | 340 | 14 | 18000 |
| 10 | 365 | 15 | 21000 |
| 11 | 390 | 15 | 25000 |
| 12 | 415 | 16 | 30000 |
| 13 | 440 | 16 | 35000 |
| 14 | 465 | 17 | 40000 |
| 15 | 490 | 17 | 46000 |
| 16 | 515 | 18 | 53000 |
| 17 | 540 | 18 | 61000 |
| 18 | 565 | 19 | 69000 |
| 19 | 590 | 19 | 79000 |
| 20 | 615 | 20 | 89000 |
| 21 | 640 | 20 | 101000 |
| 22 | 665 | 21 | 115000 |
| 23 | 690 | 21 | 129000 |
| 24 | 715 | 22 | 146000 |
| 25 | 740 | 22 | 164000 |
| 26 | 765 | 23 | 184000 |
| 27 | 790 | 23 | 207000 |
| 28 | 815 | 24 | 233000 |
| 29 | 840 | 24 | 261000 |
| 30 | 865 | 25 | 292000 |
| 31 | 890 | 25 | 328000 |
| 32 | 915 | 26 | 367000 |
| 33 | 940 | 26 | 411000 |
| 34 | 965 | 27 | 459000 |
| 35 | 990 | 27 | 514000 |
| 36 | 1015 | 28 | 574000 |
| 37 | 1040 | 28 | 642000 |
| 38 | 1065 | 29 | 717000 |
| 39 | 1090 | 29 | 801000 |
| 40 | 1115 | 30 | 895000 |
| 41 | 1140 | 30 | 999000 |
| 42 | 1165 | 31 | 1116000 |
| 43 | 1190 | 31 | 1246000 |
| 44 | 1215 | 32 | 1391000 |
| 45 | 1240 | 32 | 1552000 |
| 46 | 1265 | 33 | 1732000 |
| 47 | 1290 | 33 | 1933000 |
| 48 | 1315 | 34 | 2157000 |
| 49 | 1340 | 34 | 2406000 |
| 50 | 1365 | 35 | 2685000 |
| 51 | 1390 | 35 | 2995000 |
| 52 | 1415 | 36 | 3341000 |
| 53 | 1440 | 36 | 3727000 |
| 54 | 1465 | 37 | 4157000 |
| 55 | 1490 | 37 | 4636000 |
| 56 | 1515 | 38 | 5171000 |
| 57 | 1540 | 38 | 5767000 |
| 58 | 1565 | 39 | 6432000 |
| 59 | 1590 | 39 | 7173000 |
| 60 | 1615 | 40 | 8000000 |
| Level | Strength | Quantity | Cost |
| --- | --- | --- | --- |
| 1 | 260 | 5 | 0 |
| 2 | 280 | 5 | 1000 |
| 3 | 300 | 5 | 3000 |
| 4 | 320 | 5 | 5000 |
| 5 | 340 | 5 | 7000 |
| 6 | 360 | 6 | 9000 |
| 7 | 380 | 6 | 12000 |
| 8 | 400 | 6 | 14000 |
| 9 | 420 | 6 | 18000 |
| 10 | 440 | 6 | 21000 |
| 11 | 460 | 6 | 25000 |
| 12 | 480 | 6 | 30000 |
| 13 | 500 | 6 | 35000 |
| 14 | 520 | 7 | 40000 |
| 15 | 540 | 7 | 46000 |
| 16 | 560 | 7 | 53000 |
| 17 | 580 | 7 | 61000 |
| 18 | 600 | 7 | 69000 |
| 19 | 620 | 7 | 79000 |
| 20 | 640 | 7 | 89000 |
| 21 | 660 | 7 | 101000 |
| 22 | 680 | 7 | 115000 |
| 23 | 700 | 8 | 129000 |
| 24 | 720 | 8 | 146000 |
| 25 | 740 | 8 | 164000 |
| 26 | 760 | 8 | 184000 |
| 27 | 780 | 8 | 207000 |
| 28 | 800 | 8 | 233000 |
| 29 | 820 | 8 | 261000 |
| 30 | 840 | 8 | 292000 |
| 31 | 860 | 9 | 328000 |
| 32 | 880 | 9 | 367000 |
| 33 | 900 | 9 | 411000 |
| 34 | 920 | 9 | 459000 |
| 35 | 940 | 9 | 514000 |
| 36 | 960 | 9 | 574000 |
| 37 | 980 | 9 | 642000 |
| 38 | 1000 | 9 | 717000 |
| 39 | 1020 | 10 | 801000 |
| 40 | 1040 | 10 | 895000 |
| 41 | 1060 | 10 | 999000 |
| 42 | 1080 | 10 | 1116000 |
| 43 | 1100 | 10 | 1246000 |
| 44 | 1120 | 10 | 1391000 |
| 45 | 1140 | 10 | 1552000 |
| 46 | 1160 | 10 | 1732000 |
| 47 | 1180 | 10 | 1933000 |
| 48 | 1200 | 11 | 2157000 |
| 49 | 1220 | 11 | 2406000 |
| 50 | 1240 | 11 | 2685000 |
| 51 | 1260 | 11 | 2995000 |
| 52 | 1280 | 11 | 3341000 |
| 53 | 1300 | 11 | 3727000 |
| 54 | 1320 | 11 | 4157000 |
| 55 | 1340 | 11 | 4636000 |
| 56 | 1360 | 12 | 5171000 |
| 57 | 1380 | 12 | 5767000 |
| 58 | 1400 | 12 | 6432000 |
| 59 | 1420 | 12 | 7173000 |
| 60 | 1440 | 13 | 8000000 |
| Level | Strength (%) | Duration | Cost |
| --- | --- | --- | --- |
| 1 | 40 | 14 | 0 |
| 2 | 40.7 | 14.4 | 50000 |
| 3 | 41.4 | 14.7 | 53000 |
| 4 | 42.1 | 15.1 | 57000 |
| 5 | 42.8 | 15.4 | 61000 |
| 6 | 43.5 | 15.8 | 66000 |
| 7 | 44.2 | 16.1 | 71000 |
| 8 | 44.9 | 16.5 | 77000 |
| 9 | 45.6 | 16.8 | 83000 |
| 10 | 46.3 | 17.2 | 90000 |
| 11 | 47 | 17.6 | 98000 |
| 12 | 47.7 | 17.9 | 107000 |
| 13 | 48.4 | 18.3 | 117000 |
| 14 | 49.1 | 18.6 | 128000 |
| 15 | 49.8 | 19 | 140000 |
| 16 | 50.5 | 19.3 | 154000 |
| 17 | 51.2 | 19.7 | 169000 |
| 18 | 51.9 | 20.1 | 186000 |
| 19 | 52.6 | 20.4 | 205000 |
| 20 | 53.3 | 20.8 | 226000 |
| 21 | 54 | 21.1 | 250000 |
| 22 | 54.7 | 21.5 | 276000 |
| 23 | 55.4 | 21.8 | 306000 |
| 24 | 56.1 | 22.2 | 338000 |
| 25 | 56.8 | 22.5 | 375000 |
| 26 | 57.5 | 22.9 | 416000 |
| 27 | 58.2 | 23.3 | 461000 |
| 28 | 58.9 | 23.6 | 512000 |
| 29 | 59.6 | 24 | 568000 |
| 30 | 60.3 | 24.3 | 631000 |
| 31 | 61 | 24.7 | 701000 |
| 32 | 61.7 | 25 | 779000 |
| 33 | 62.4 | 25.4 | 867000 |
| 34 | 63.1 | 25.7 | 964000 |
| 35 | 63.8 | 26.1 | 1072000 |
| 36 | 64.5 | 26.5 | 1193000 |
| 37 | 65.2 | 26.8 | 1328000 |
| 38 | 65.9 | 27.2 | 1478000 |
| 39 | 66.6 | 27.5 | 1646000 |
| 40 | 67.3 | 27.9 | 1833000 |
| 41 | 68 | 28.2 | 2041000 |
| 42 | 68.7 | 28.6 | 2273000 |
| 43 | 69.4 | 28.9 | 2532000 |
| 44 | 70.1 | 29.3 | 2821000 |
| 45 | 70.8 | 29.7 | 3143000 |
| 46 | 71.5 | 30 | 3502000 |
| 47 | 72.2 | 30.4 | 3902000 |
| 48 | 72.9 | 30.7 | 4349000 |
| 49 | 73.6 | 31.1 | 4846000 |
| 50 | 74.3 | 31.4 | 5401000 |
| 51 | 75 | 31.8 | 6020000 |
| 52 | 75.7 | 32.2 | 6710000 |
| 53 | 76.4 | 32.5 | 7479000 |
| 54 | 77.1 | 32.9 | 8337000 |
| 55 | 77.8 | 33.2 | 9293000 |
| 56 | 78.5 | 33.6 | 10359000 |
| 57 | 79.2 | 33.9 | 11548000 |
| 58 | 79.9 | 34.3 | 12874000 |
| 59 | 80.6 | 34.6 | 14352000 |
| 60 | 81.3 | 35 | 16000000 |
| 61 | 81.6 | 35.3 | 24400000 |
| 62 | 81.9 | 35.7 | 33700000 |
| 63 | 82.2 | 36 | 43800000 |
| 64 | 82.5 | 36.4 | 55000000 |
| 65 | 82.8 | 36.7 | 67300000 |
| 66 | 83.1 | 37.1 | 80900000 |
| 67 | 83.4 | 37.4 | 95800000 |
| 68 | 83.7 | 37.8 | 112200000 |
| 69 | 84 | 38.1 | 130200000 |
| 70 | 84.3 | 38.5 | 150000000 |