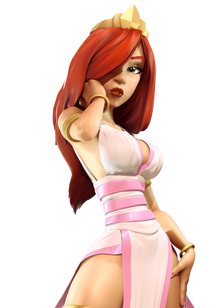 Descripción
Diosa del amor y la belleza. Irresistible para los mortales.
Afrodita es una diosa delicada que depende de los súbditos y los otros dioses para protegerse.
Ella es una diosa a distancia que pued
>Las habilidades de Afrodita son: Encantar unidades, Encantar edificios y Temor reverencial.</p>
Estrategia
S
Afrodita es muy débil por lo que debe estar alejada del rango de ataque de las torres enemigas.
Encantar un edificio poderoso como una Torre de fuego griego puede destruir a varios edificios circundantes.
Ad blocker interference detected!
Wikia is a free-to-use site that makes money from advertising. We have a modified experience for viewers using ad blockers

Wikia is not accessible if you've made further modifications. Remove the custom ad blocker rule(s) and the page will load as expected.